Day Four - Pure Self Bible Study
Here's the BIG PICTURE regarding you and God.  Whether you know it or not, God has a plan for your life.  In fact, he has a plan for all people.  There are two paths in life, with God and without God.  It's up to each of us to choose our path.  
The interesting thing is that either way, both paths lead you to God for his evaluation of your life (Revelation 20:12,15).  Knowing you're on the path to him - that is deliberately choosing him - makes all the difference now in this life - and at the end of your chosen path.
In the beginning God created man in his own image (Genesis 1:27) as his greatest creation.  Obviously, nothing else was he created was more valuable to him.  When we're resurrected we'll be restored to our pure selves that God intended us to be.  We'll be pure because we'll finally be free from sin as he intended us to be.  Your pure self is your true self.  
God cannot let anything impure into heaven (Revelation 21:27), but he makes a way for sinful people to be pure and free from sin so they can live forever with him in heaven.  
If you take nothing away from this Pure Self Bible Study - take this truth and meditate on it - God can make you pure.  He has done this so you can live forever with him.  
In the beginning of time God created everything and declared it was very good (Genesis 1:31).  His greatest creation is mankind because he made Adam and Eve in his own image (Genesis 1:27).  God commanded Adam and Eve to multiply (Genesis 1:28).  
Therefore, any subsequent people are the result of God's creation.  God created men and women pure - that is without sin.  But they sinned and since then, every person born is not pure because of sin (see Romans 5:12-21).    

Unlike us, Adam and Eve were born pure but Satan tricked them into thinking they were not who God said they were.  They were convinced to sin.  They believed a lie, they adopted an ungodly and different answer to the question we began this Bible study with - "Who am I?" 7  
They sinned and were no longer the pure people God created them to be.  You could say they lost their pure selves when they sinned.  God wanted them pure, but after their sin they couldn't live with God anymore in the Garden of Eden (Genesis 3:23-24).  God cannot live with sin (Revelation 21:27).
So today, all of us are born tainted with sin.  That's not what God designed for us when he created mankind.  So when you were born, like everybody else, you inherited a sinful body (Romans 5:12).  As Christians we call this the "Old Self" or "Old Man" because it's the past self or what we used to be (See Romans 5:6, Ephesians 4:22, and Colossians 3:9).
As Christians, we are to crucify our old selves.  Yes, we're to kill our old selves on the cross metaphorically speaking (Romans 6:6).  When that happens we're changed, and we embrace our new selves.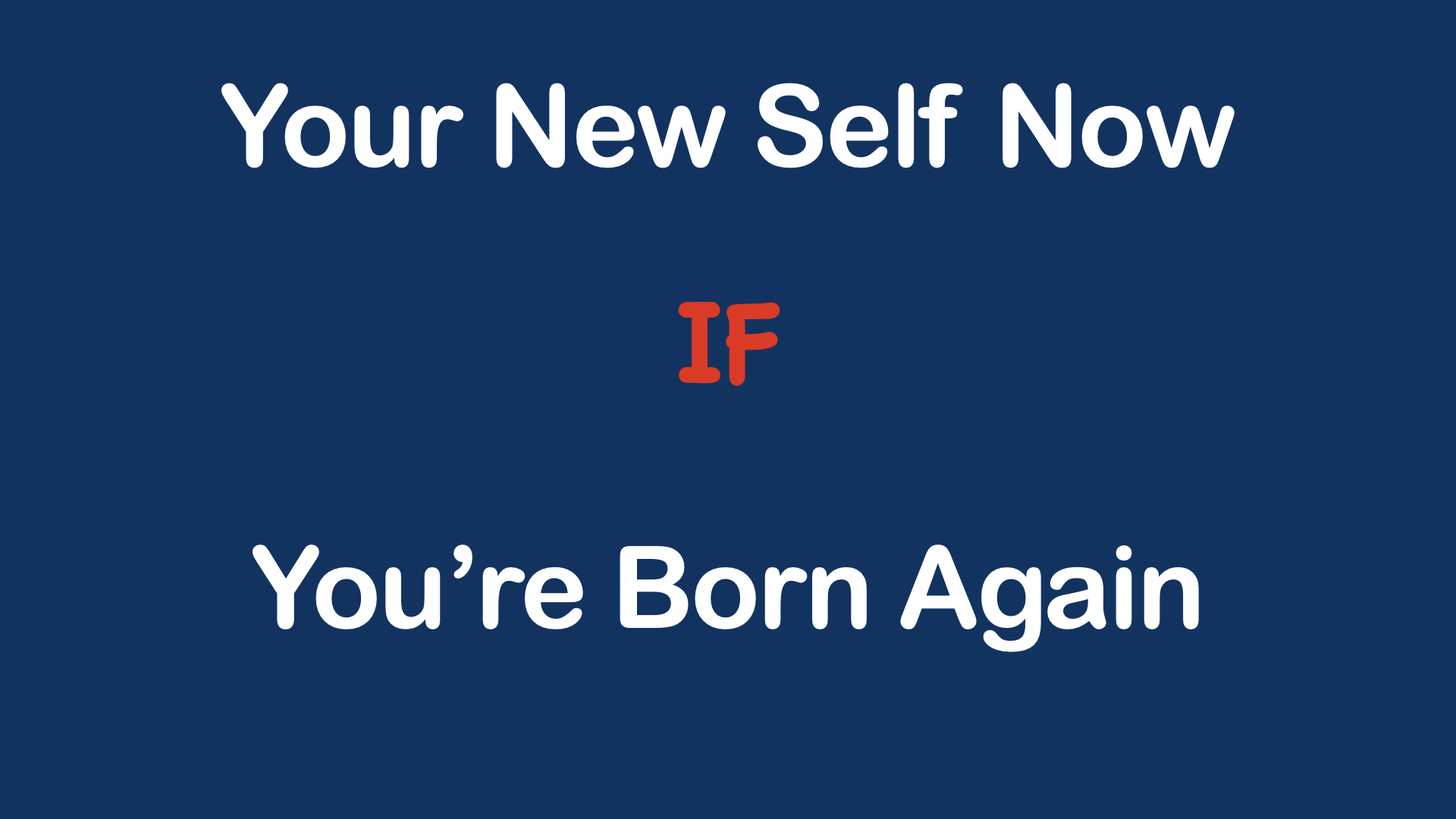 If you're a Christian, then you were born again as Jesus explained to Nicodemus.  So Christians, like all people, are first born (old self).  But when they become followers of Jesus Christ, they are born again (new self).  They're born of the spirit (See John 3:3-7).
This is why as Christians we're exhorted "to put on the new self, created after the likeness of God in true righteousness and holiness" (Ephesians 4:24).  We're to walk in newness of life (Romans 6:4) as we put on our new selves (Colossians 3:10).  We have a great symbol of this newness of life in baptism.

When Christians become followers of Christ they're baptized.  Baptism is a symbolic and public display that we're followers of Christ.  It doesn't save us from eternal damnation, it's a symbol of our belief that we'll be resurrected to be with God when Christ returns.  

We're baptized to symbolically and publicly identify with the death, burial and resurrection of Jesus Christ.  Just as Christ died, we die to our old selves.  Just as Christ was buried, we'll be buried when we die.  And just as Christ was resurrected, we'll also be resurrected when he returns. 😀
In the meantime, we're fighting our old selves in our daily fight with our sin.  Self-control is our means to sanctification or becoming more like Christ.  But we can't win this fight by ourselves.  Thankfully, sin's been defeated for us in the life, death, burial, and resurrection of Jesus Christ if we're Christians.
Not only that death has been defeated for us.  As Christians we have our great hope for eternal life that will start when we'll be resurrected.  Then we'll leave the old self behind and the new self will become the pure self God intended us to be from the beginning.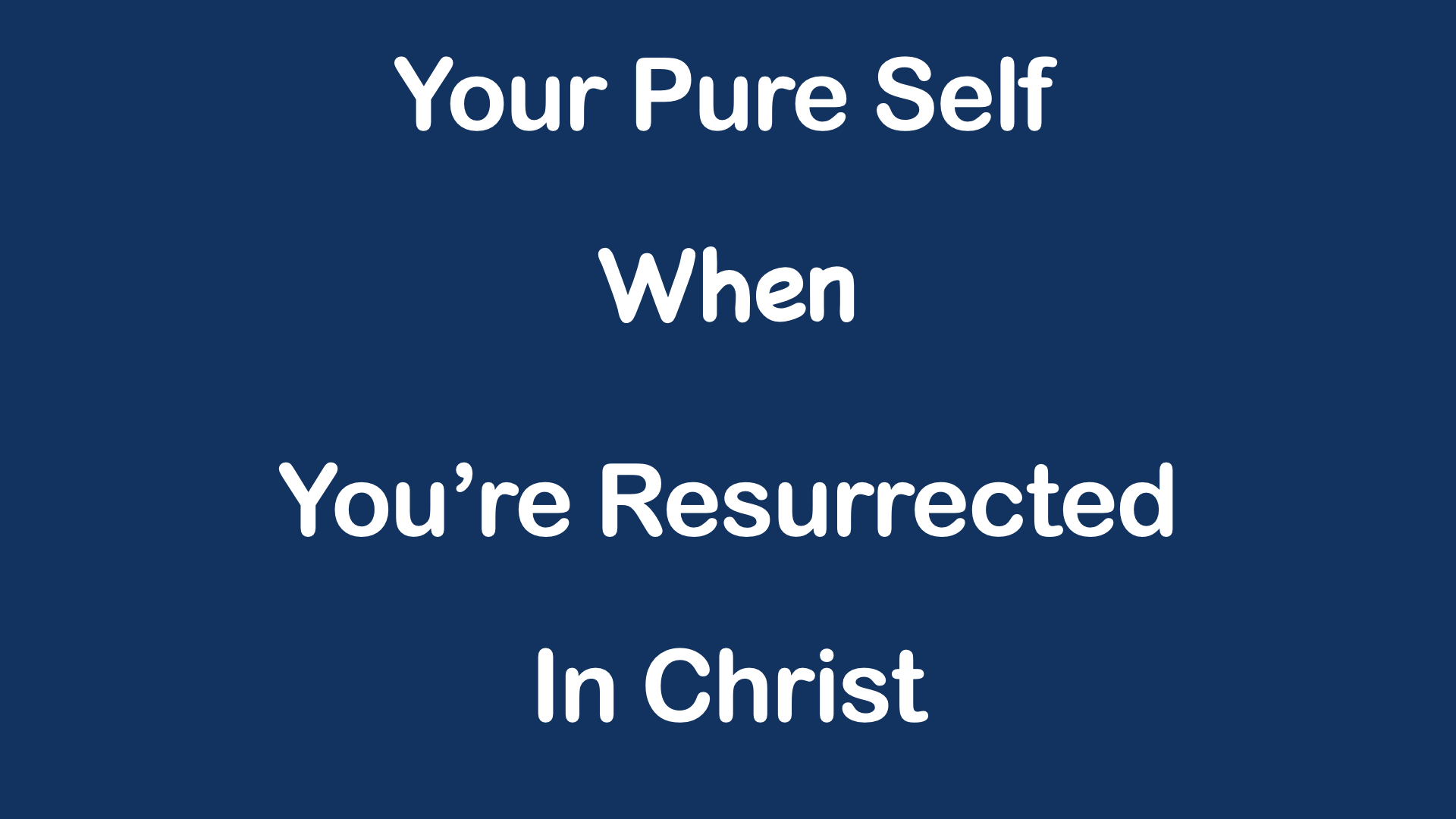 Our great hope as Christians isn't realized fully in this life because our hope lies beyond our "New Self".  Therefore, our hope for a resurrected new body and our eternal life with God is something we should really understand.  We need to understand our eternal life is really very important to God.
God wants a relationship with you.  God wants you to live with him forever.  What a great, magnificent, and unmatched love God has for us that we should live forever as his children.  Jesus demonstrated his love for us when he died for our sins.  And God will demonstrate his love for you again.  

If you're resurrected to live for eternity, then you've been chosen by God to live with him forever.  Think about that.  But this new era of life is much different than the life we live today.  We will have pure bodies or rather we'll be our pure selves as God created us to be.  Most importantly, there will be no sin and death has been defeated.  
The new bodies of Christians raised by God in his resurrection will be magnificent according to I Corinthians chapter 15:42-54.  Our entirely new and resurrected bodies will "not merely be incorruptible, but decay's reversal.  They'll be a solidity of progressive, purposive flourishing in fullness of life." 8  
Because God wins, we'll win also.  Our new resurrected bodies will be pure.  They'll also be glorious in the sense that they'll be bodies that "find complete fulfillment in God's design and purpose to bring him glory." 9

---